How could we intelligently optimize our trip experience?
Problem

Nowadays more and more people tend to do research and create travel plans by themselves to better meet personal needs. However, the process of creating daily schedules could be troublesome and time-consuming. People often take a huge amount of time to gather information and find out the most optimized route.


Solution

EnRoute is a route-based trip advisory and planning application which aims to improve people's itinerary constructing process. It could auto-arrange selected locations into the most optimized daily routes in order to help travelers better make schedules and customize their own journeys. EnRoute's UGC itinerary recommendation system also allows its users to easily share their travelling routes online and gather inspirations for their trips.

Type

Individual project

Time

4 weeks, 2019

My Role

User research, UX design, visual design
Tools


Sketch, Illustrator, and After Effects

01 Create a journey from wishlist

Create a journey from wishlist with auto-optimization feature which automatically groups nearby attractions together, calculates the optimized order of those places, and generates the optimized routes for each day.
B. Add or delete locations from map view

Easily save new locations to a journey, and unsave locations from a journey on the map view. Edit current itinerary with auto-optimization feature and live visual updates on the map.
C. Edit Itinerary
Easily edit the itinerary with various personalized features in the detail page. Auto-generates the best routes and provides detailed time, location and transportation information.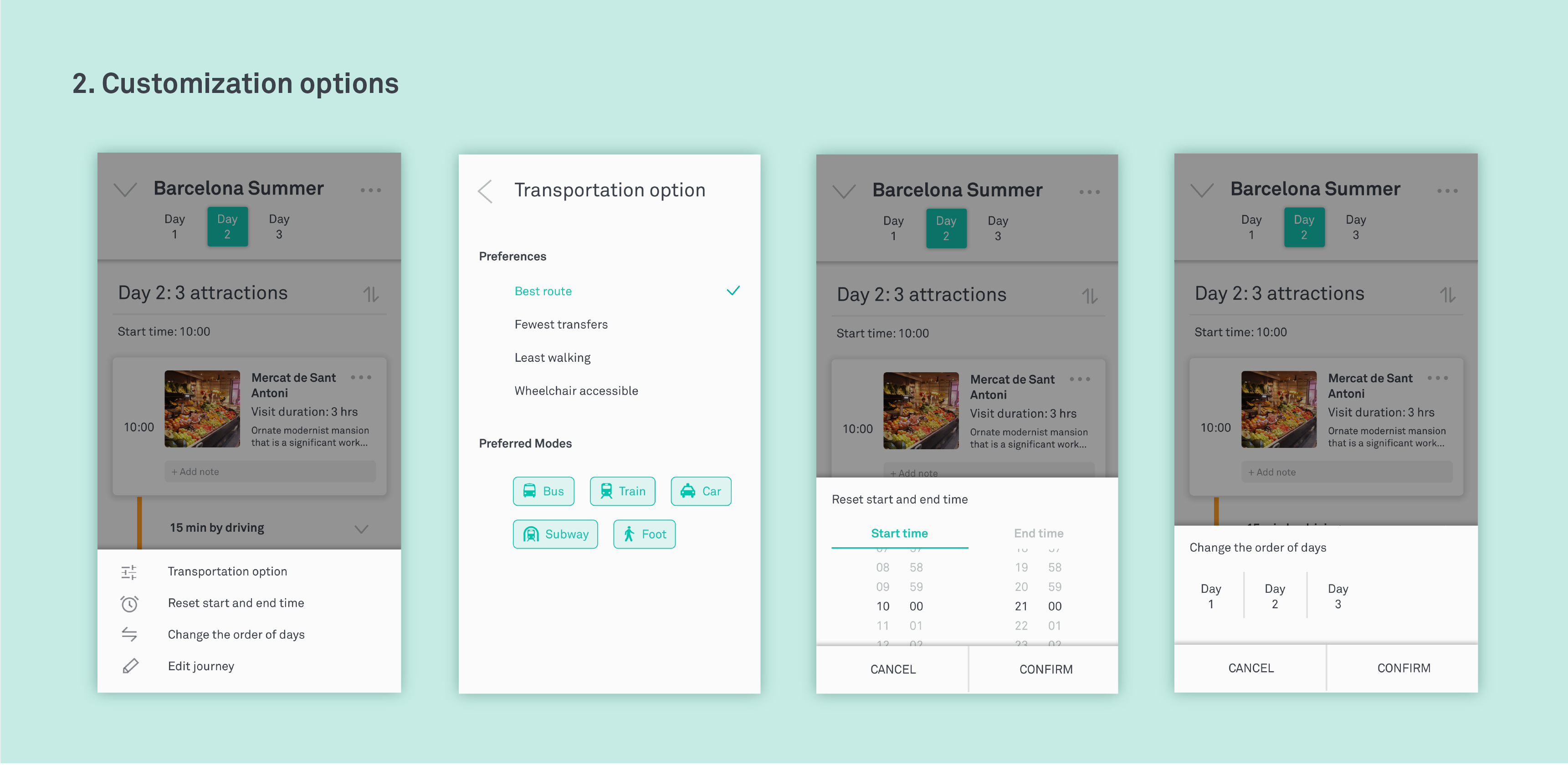 D. Social Platform
Social platform feature for comparing, reviewing and sharing user-generated itineraries; easily save other people's itineraries and specific locations to user's own Journey page for inspirations.
01 Early Research

A. Literature Review
The statistic shows that more and more New Age travelers nowadays seek comfort in doing research and building their own itineraries by themselves. According to the report by Hyderabad Express, the group tour packages and ready-made itineraries created by travel agencies and influencers are losing much of the appeal nowadays while younger millennial travelers are actively embracing travel as a Do-It-Yourself adventure and exclusively looking for a self-guided, customized journey.

B. Target Users

In this project, I decided to focus on the new-age travelers and their patterns of creating plans by themselves.

C. Contextual Inquiry

In order to understand what the issues are with people's current itinerary constructing process, I conducted contextual inquiry with 6 young people to comprehend the problem scope and user pain points with existing process.
Prompt:
You're a traveler who are going to travel to a place for three days. You can choose any place you want. Please create a three-day itinerary for your journey. You are encouraged to speak aloud your thought process as you navigate through the task.
D. Insights from Contextual Inquiry
Screenshot: Example of participant's current user flow of constructing an itinerary
With affinity mapping, I found out that the itinerary constructing process mainly involves three user pain points which cause inconvenience and great manual labor:
1. Personal narratives and route-based itinerary recommendation are desired
The participants wanted to read other people's itineraries as inspirations. Participants hoped that they could easily save other people's itineraries and attractions, and compare these itineraries with their own schedules.
2. Building itinerary and daily routes is "troublesome"
Participants were frustrated with the route planning process which involved much calculation work. Manually weaving isolated locations into a sequential and tight itinerary took away most of the time and users expected a more optimized and integrated experience.
3. Current format of itinerary is hard to view or share
It was hard to translate the itinerary information onto the map and participants had to constantly switch between the map and their travel document.
Current products in the markets don't really solve the above three pain points:
1. UGC/PGC Platforms
Lacking the intelligent optimization feature, the users still have to manually conduct research and calculate the optimized routes which is really troublesome.
2. Travel Assistent Tools
These tools lack a clear visualization of the itinerary in the map format. Also these tools tend to be personal, which lack a sense of community.
3. Travel OTA
These platforms tend to provide ready-made itineraries which don't really satisfy people's need to build up customized itineraries by themselves.
02 Define

A. Problem Scope

Given the three categories of pain points in the above affinity mapping, I decided that there's a market for the inclusion of three forms of engagement during the trip planning process:
1. Itinerary Recommendation
2. Intelligent Itinerary Optimization
3. Documentation and Shareability
B. Information Architecture
C. Style Guide